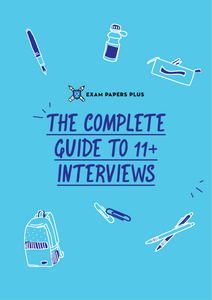 - 174 pages packed with advice and insights. 
- Covers everything you need to know about 11+ admissions interviews.
- Provides parents with practical advice and guidance about the interview process, what to expect and how best to prepare.
- Includes over 80 common interview questions with sample answers; activities you, your child and family can do to actively prepare; a selection of academic questions and problems to solve and an 'Interview Journal' for your child to record their achievements. Also included are tips on group interviews, online interviews and common interview pitfalls, as well as body language, mindset, manners and much more!
- Written by EPP Director, Louise Lang. She has helped countless students successfully prepare for 11+ Admissions Interviews and knows the process inside out.
- This guide distills all of Louise's valuable knowledge and insights regarding the interview process.
- Introductory interview consultations with Louise begin at £300 so this guide represents excellent value.
- Click here to view the contents and introduction.
FREE UK FIRST CLASS POSTAGE IS INCLUDED

WORLDWIDE SHIPPING IS AVAILABLE.