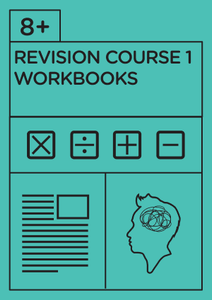 This comprehensive set of 8+ Workbooks covers all subject areas at an appropriate level:
- Maths: calculation, number, place value, geometry, time, money, fractions, mental maths and problem solving.
- English: comprehension, creative writing, letter writing, SPAG, dictation and re-write & improve.
- Verbal Reasoning
- Non-Verbal Reasoning
Answers and mini mock tests are also included.
All content is fully updated and refreshed for 2023.
We use these Workbooks in our week-long 8+ Easter Revision Course, costing £1170.
In total, they provide between 45-60 hrs (over 600 pages) of high-quality material to work through at home! 
All the material is unique and exclusive, with no duplication of any of our other 8+ resources.
FREE UK FIRST CLASS POSTAGE IS INCLUDED
WORLDWIDE SHIPPING AVAILABLE