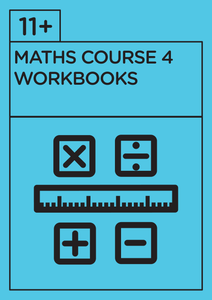 A comprehensive set of 11+ Mathematics Workbooks.
We use these Workbooks in our week-long 11+ October Revision Course, costing £468.
In total, they provide between 16-20 hrs of material to work through at home! 
All the material is unique and exclusive, with no duplication of any of our other 11+ resources.
Workbooks included cover:
Number 

Place value, ordering

Calculation (addition, subtraction, multiplication & division)

Remainders

Mixed computations

Missing number/symbol problems

Fractions (addition, subtraction, equivalent, simplifying, multiplication, word problems)

Decimals, percentages & ratio 

HCF & LCM

Time, distance, speed

Estimating/rounding

Number sequences & patterns

Shape & measurement (perimeter, area and volume)

Symmetry

Data

Time

Problem solving

Maths Test
Answers are also included.
Total Length: approximately 190 pages
FREE UK FIRST CLASS POSTAGE IS INCLUDED
WORLDWIDE SHIPPING AVAILABLE