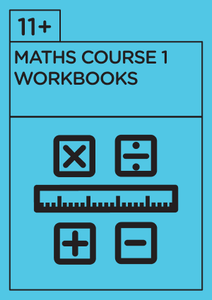 A comprehensive set of 11+ Mathematics Workbooks.
We use these Workbooks in our week-long 11+ Easter Revision Course, costing £468.
In total, they provide between 16-20 hrs (over 200 pages) of material to work through at home! 
All the material is unique and exclusive, with no duplication of any of our other 11+ resources.
These Workbooks have been fully updated and refreshed for 2023.
Two days' worth of intensive structured learning - or can be organised over a longer period at home to suit your child.
Topics covered include: operations & BODMAS, perimeter, area & volume, fractions, decimals & percentages, special numbers & sequences, estimation & place value and problem solving.

Answers and mini mock tests are also included.
FREE UK FIRST CLASS POSTAGE IS INCLUDED
WORLDWIDE SHIPPING AVAILABLE