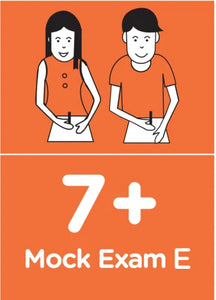 A brand new Mock Exam.
The English paper in this set contains a multiple-choice comprehension, which is ideal preparation for schools that use this format, such as St. Paul's Juniors.
These papers have been specifically created with the upcoming exams in mind and will therefore provide ideal practice for those sitting 7+ assessments over the next few months.
These tests differ from those available to download on our site, and are available in hard copy only. 
Each set contains 8 sections:
- Mathematics
- Mental Arithmetic Questions
- Mental Arithmetic Response Sheet
- English
- Dictation Text
- Dictation Response Sheet
- Reasoning (VR and NVR)
- Answers


 

FREE UK FIRST CLASS POSTAGE IS INCLUDED
WORLDWIDE SHIPPING IS AVAILABLE.